Whether you just need a capable smartphone or a more advanced DSLR/mirrorless setup for your vlogging, these are the finest options for vloggers right now.
Looking for the best camera for vlogging? You're in the right place. (And with lots of cheap camera deals right now, this is the best time of year to invest as well.)
Choosing an appropriate camera for vlogging involves prioritizing a number of things that may not seem too important for stills photography. One of the most critical is an LCD screen that you can keen an eye on while you're recording, which is a given with a smartphone but something only a handful of more mainstream cameras offer. An autofocus system that can also keep track of you while you're recording is also important.
Another key thing to consider is audio quality, and more specifically the scope with which you can improve on the built-in default microphone(s).
A camera that may be entirely suitable for selfies, for example, may not have a separate port for microphones, which either means you need to rely on the built-in microphones, or record video to separate device. It's not necessarily a deal-breaker, but it does limit what you can achieve with the camera alone. It's a little easier with smartphones as small lavalier-type microphones can often be attached through the headphone port.
Here are the best cameras for vloggers on the market right now, ranging from smartphones and compacts for everyday vlogging through to interchangeable-lens cameras for broader control and more professional results.
Best cameras for vlogging
Most companies tend to find a niche and exploit this to give them a USP. Ricoh Imaging, for example, has long offered weather-sealing and pentaprism viewfinders on even cheaper DSLRs, while Fujifilm has opted for its own sensor technology. And it's for these reasons why the following suggestions tend to center around just a handful of brands.
Thanks to 4K video and some advanced features often being absent from its models, Canon's cameras aren't necessarily always the best for video overall, but the fact that so many have screens that either tilt or can be swiveled to face the front make them far more suitable for vloggers than other models whose screens only tilt up and down to a lesser degree. The company's Dual Pixel CMOS AF system is also among the best for keeping track of subjects while recording video, which gives its models another significant advantage.
Similarly, Panasonic, who has made a point of stuffing 4K video recording everywhere it can, has also furnished a number of its models with an LCD screen with a side-pivot mechanism. Together with a range of advanced video specs we're not used to seeing elsewhere, this also gives it models the edge.
In addition to the below, new arrivals that also appear to fit the bill include the Olympus PEN E-PL9 and the Fujifilm X-A5, although we've yet to test these models properly at the time of writing.
1. Canon PowerShot G7 X Mark II
A flip-up screen, large sensor and a relatively pocketable body makes this one of the best options for vlogging
Type: Compact | Sensor: 1in | Lens: 24-100mm (equiv.) f/1.8-2.8, | Screen: 3in tilting touchscreen, 1.04million dots | Max video resolution: Full HD | Mic port: No | User level: Beginner
Small form
Healthy range of control over video
Video limited to Full HD
No mic port

The original PowerShot G7 X was something of a hit-and-miss affair among photographers, but it certainly became popular among vloggers. And now, this second-generation update appears to be just as much of a smash. While it maintains a 1in-type sensor from the previous model, you now get a 24p and 60p recording option, better battery life and a touchscreen that's arguably easier to see thanks to the hinge now being placed along the bottom of the camera. The newer DIGIC 7 processor also speeds up performance overall, and the fact that you can slip this into a roomy pocket makes it a more portable option for recording on the fly, where a DSLR would be impractical.
2. Sony RX100 Mark V
Sony's flagship RX100 model captures excellent 4K footage and boasts phase-detect AF
Type: Compact | Sensor: 1in | Megapixels: 20.1MP | Lens: 24-70mm f/1.8-2.8 | Screen: 3in tilt-angle display, 1.22million dots | Max video resolution: 4K | Mic port: No | User level: Enthusiast
4K video from oversampled footage
Phase-detect AF pixels on sensor
Five-minute recording limit
No mic port
While the previous RX100 Mark IV was already equipped for excellent-quality 4K video recording, the pocketable Mark V made some important strides for the videographer. Perhaps the most important addition is phase-detect AF pixels on the sensor, which allow the camera to keep a better lock on the subject while recording. Furthermore, face detection is also effective here, which further helps the camera to understand what it's focusing on. You also get an SLog2 option and far better rolling-shutter performance than the Mark IV, although there's no mic port, so you'll have to use a mic and an external recorder (or your phone) if you want to improve on the quality of the camera's microphones.
3. Canon EOS M6
Junior-level mirrorless model from Canon ticks the right boxes for vloggers on a budget
Type: Mirrorless | Sensor: APS-C | Megapixels: 24.2MP | Lens mount: Canon EF-M | Screen: 3in tilting touchscreen, 1.04million dots | Max video resolution: Full HD | Mic port: Yes | User level: Beginner
Great Dual Pixel CMOS AF system
Wi-Fi and Bluetooth built in
No 4K option
Limited lens range
With a flip-up screen and a microphone port, and Canon's excellent Dual Pixel CMOS AF system on board to keep everything in focus during recording, the EOS M6 is a great choice for those who want to keep both their setup as compact and portable. Video is limited to Full HD recording, although you do have a 60p option if you need it, and built-in digital image stabilization also helps when you're recording on the move. The current collection of compatible lenses isn't the widest, but if you pair the camera with the EF-M 11-22mm f4-5.6 IS STM lens, you'll have a useful 18-35mm focal range (in 35mm-equivalent terms) to work with, together with the benefit of Canon's STM technology to keep focusing quiet. If you need 4K, the recent EOS M50 is also one to add to the list, although this does come with a handful of limitations, such as no Dual Pixel CMOS AF in 4K and a 1.6x crop factor.
4. Panasonic Lumix G85 / G80
Not the newest Lumix, but the combination of 4K video, a flip-out screen and a mic port make it great for vloggers
Type: Mirrorless | Sensor: Micro Four Thirds | Megapixels: 16MP | Lens mount: Micro Four Thirds | Screen type: 3in tilting touchscreen, 1.04million dots | Max video resolution: 4K | User level: Beginner/enthusiast
Good continuous AF in video
Mic port included
2x crop factor less ideal for wide framing
Softness in Full HD videos
With masses of features, a weather-sealed body and crisp image quality thanks to the lack of an optical low-pass filter, the Lumix G85, which also goes by the name Lumix G80, is one of our favorite budget mirrorless cameras even before we get to its video capabilities. And yet, even here it shines, with 4K recording, a mic input, flip-out touchscreen and fast focusing to recommend it even further. The camera is capable of using face detection to keep a lock on subjects as they move, and while it lacks on-sensor phase-detect AF, focus changes happen nice and smoothly while you're recording. You also benefit from effective image stabilization from both the sensor and the lens (assuming you're using a lens with OIS), which is great if you're planning on moving while you shoot.
5. Canon EOS Rebel SL2 / EOS 200D
Small-format DSLR with the benefit of Dual Pixel CMOS AF and a mic port
Type: DSLR | Sensor: APS-C | Megapixels: 24.2MP | Lens mount: Canon EF-S | Screen: 3in tilting touchscreen, 1.04million dots | Max video resolution: Full HD (1080p) | Mic port: 3.5mm | User level: Beginner
Very flexible LCD screen
Kit lens boasts STM technology
No 4K video
Some specs quite basic
The EOS Rebel SL2, also known as the EOS 2000D, may simply appear as a compact, unassuming, entry-level DSLR, but for vloggers on a budget it makes a lot of sense. On top of the Full HD option that records to 60p, you get a flip-out touchscreen LCD with a respectable 24.2MP resolution, together with sensor-based phase-detect AF pixels – Canon's Dual Pixel CMOS AF system – to help keep focus smooth while you record. You can also hook an external microphone to the camera through the 3.5mm port at its side. The default EF-S 18-55mm f/4-5.6 IS STM kit lens also has the advantage of using an STM motor for more fluid focusing during video recording, although something a little wider like the Canon EF-S 10-18mm f4.5-5.6 IS STM would be a better choice if you want to get yourself in the frame while providing environmental context, given the 1.6x crop factor of the sensor.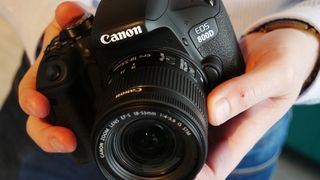 6. Canon EOS Rebel T7i / EOS 800D
Much the same as the more junior EOS 200D, but a more serious proposition if you also shoot stills
Type: DSLR | Sensor: APS-C | Megapixels: 24.2MP | Lens mount: Canon EF-S | Screen: 3in tilting touchscreen, 1.04m dots | Max video resolution: Full HD (1080p) | Mic port: 3.5mm | User level: Beginner/enthusiast
Sound video specs
Great focusing system
Similar specs to EOS 200D
No 4K video
The Rebel T7i, which also goes by the names EOS 8000D and Kiss X9i depending on where you are in the world, was announced just a few months before the EOS 200D (above), and it's aimed at a similar user. In fact, with its 24MP sensor, Dual Pixel CMOS AF, Full HD video to 60p, a flip-out touchscreen and a mic port, its spec sheet reads pretty similarly too, although it's a better choice for those who appreciate what the EOS 200D offers videographers but require something a little stronger for stills. That extra outlay gets you a much more capable 45-point AF system, each point being cross-type for enhanced sensitivity, in addition to a 6fps burst rate next to the EOS 200D's 5fps. Not fussed about these? Go for the EOS 200D, particularly as you'll benefit from a marginally better battery life and a more compact body.
7. Panasonic Lumix GH5S
The most advanced video option in the Lumix G stable boasts a stellar set of video specs
Type: Mirrorless camera | Sensor: Micro Four Thirds | Megapixels: 10.28MP | Lens mount: Micro Four Thirds mount | Screen: 3.2in tilting touchscreen, 1.62m dots | Max video resolution: 4K (DCI) | Mic port: 3.5mm | User level: Professional
Broadcast-quality footage
Great dynamic range and noise control
No sensor-based image stabilization
Battery life could be better
If you need to take your vlogging to the most advanced level, the 4K-enabled GH5S is, without question, the mirrorless camera that will let you do just that. While it's based in large part on the already-video-centric GH5 and the GH models that preceded them, Panasonic has narrowed its focus on making it an even stronger competitor to options within Canon EOS Cinema line and Blackmagic's stable. We now have, for example, a Dual Native ISO option, DCI 4K recording at up to 60/50p, 4:2:2 10-bit video recording (up to 30p) and up to 240fps when shooting in Full HD, all absent from the GH5. The more mobile vlogger may appreciate the fact that Panasonic reckons it can capture footage with 1.3x less rolling shutter than the GH5, although the lack of image stabilization at the sensor level – an intentional move, it should be said, rather than an oversight – may disappoint that same audience. The camera also has the honor of being the first Panasonic model to be approved by the European Broadcast Union [EBU] for HD content acquisition. So, if your vlog really takes off and ends up a bigger screen, you can be sure you'll still look your very best.